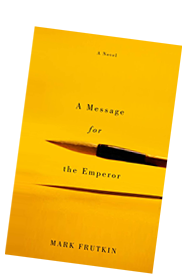 A Message for the Emperor (Novel)
(Vehicule Press, 2012)
Li Wen, a landscape painter of the Song Dynasty (960-1279 AD), is on a journey to deliver a message to the Chinese Emperor in the far-off capital city of Linan. His teacher has instructed him to paint four landscapes, one for each season, during the year it will take him to travel across China to the Emperor's Court where he is to present the paintings to the Emperor as a long-life gift. A series of gripping adventures befall Li Wen on his journey, including burial in an ancient tomb and a snowstorm that nearly ends his quest.
A fascinating re-creation of the period and an exploration of an artist's mind and creative essence, the novel takes the reader right into the heart of the stunning Chinese landscape and the bustling city of Linan. This is a unique novel of old China, the traditional landscape of mountains and rivers without end, and life in an imperial city rife with plots, intrigues, culture, sensuality and wealth.
"I loved A Message for the Emperor. The prose is sleek, restrained, flawless. There's research in there but you'd never know it. Frutkin seems to have inhaled ancient China and exhaled a parable of the artist." (Katherine Govier)
"Overflows with the kind of rich detail about time, place and landscape normally found in the very best travel writing. Emperor leaves you dazed from a quick trip to 12th century China." (Paul Gessell, Montreal Gazette)
"This short, delightful novel is poetic, cinematic, and fable-like." (Paul Gessell, Quill & Quire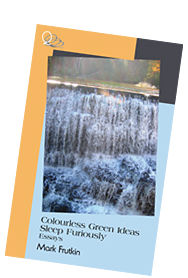 Colourless Green Ideas Sleep Furiously (Short Essays and Alternative Versions)
(Quattro Books, 2012)
In the tradition of Kafka's Parables and Paradoxes and The Book of Embraces by Eduardo Galeano, this small collection of short essays and 'alternative versions' is a vivid, perhaps even shocking, reminder that language, self, reality are based on social consensus, an unspoken agreement to see the world in a particular, limited way.
By breaking open these conventions, Colourless Green Ideas reveals the possibilities inherent in the human story.
To 'sleep furiously' is to dream. Once we know we are dreaming, we begin to consider the possibility of waking up.
"Frutkin's tell-it-slant meditations on language, meaning, and life create an argument that is also a dream, an intellectual conversation conducted in poetic diction. More than a collection of aphorisms, this slim book is a manifesto for clear and creative thought." (Mark Kingwell)
"...thought-provoking meditations, engaging explorations...a book to savour. Completeness, a sense of symmetry, a profundity based in clarity and simplicity; it's all here." (Heidi Greco, Prairie Fire Review)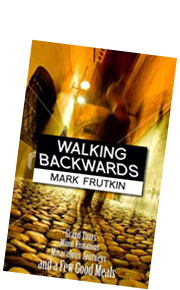 Walking Backwards (Grand Tours, Minor Visitations, Miraculous Journeys and a Few Good Meals)
(Dundurn Press, 2011)
From Istanbul to New Delhi to Boulder, Colorado, through Venice, Paris, Rome and points between...
As travelers, we are always 'walking backwards', forever on the verge of stepping into the unknown, never knowing what waits around the next corner.
You could be lost, forget your passport, fall ill. You could be served a bowl of food and not know whether it's animal, vegetable or mineral. Even flushing the toilet can be an adventure.
You are a child again, innocent and hoping for the best, forced to trust strangers. Quite often this works out. Not always.
Walking Backwards is Mark Frutkin's return to ten cities and what happened there. Whether inadvertently smuggling 'cloth' into Istanbul, reading poetry in New Delhi to a crowd expecting a world-famous pianist, or wandering endlessly through Mantua searching for a non-existent hotel on a street that has fallen off the map, Frutkin is a master at rediscovering the magic at the heart of all travel.
"His innocence is charming, his wit razor sharp. This is a lovely read." (The Globe and Mail)
"A reminder of the travellers we once were...entertaining." (Quill & Quire)